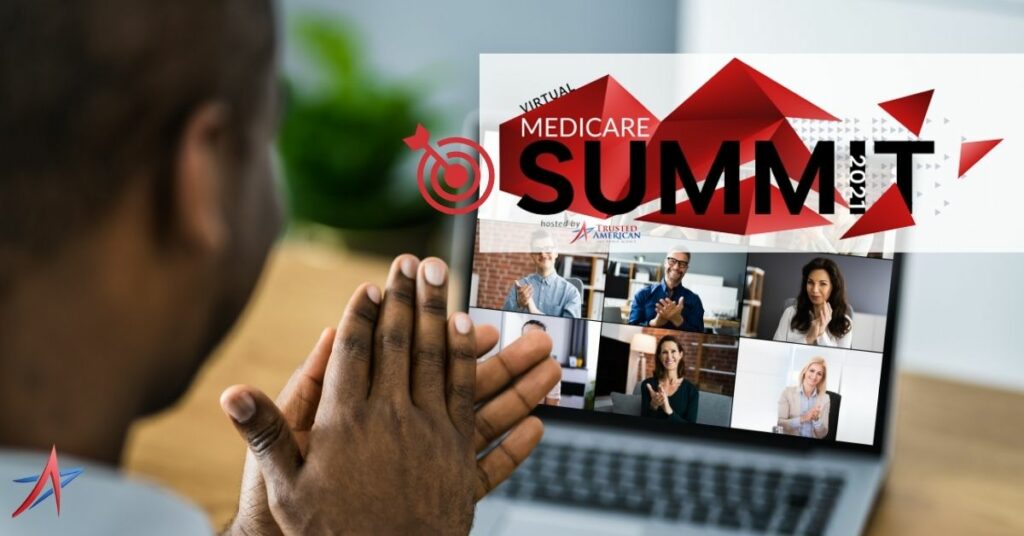 Take your Medicare AEP preparation to the next level by joining one of two virtual Medicare summits, coming September 1 & 2 for free to licensed agents (hosted by Trusted American Insurance Agency).
Get ahead of the game by hearing from leading carriers and learn how you can expand the portfolio you offer your clients.
The summit will be available on two dates for different regions:
September 1, 2021 from 9:00 AM – 12:00 PM EST: New York
September 2, 2021 from 9:00 AM – 11:00 AM PST: California
The following carriers will be highlighting their Medicare Advantage, Supplement, DSNP, Part D and other plan benefit overviews for 2022, along with providing in-depth video walkthroughs of the new benefit overviews. The summits are free for all licensed insurance agents.
New York – Featured Carriers (Click Here to Register Now):
Aetna
AgeWell
Anthem
Bright Health
EmblemHealth
Excellus BCBS
Globe Life
Humana
MetroPlusHealth
Oscar Health
SilverScript
UnitedHealthCare
WellCare / Fidelis Care
California – Featured Carriers (Click Here to Register Now):
Aetna
Alignment
Anthem
BlueShield of California
Brand New Day
HealthNet
Humana
Imperial Health
Mutual of Omaha
United American
UnitedHealthCare
WellCare
WesternHealthAdvantage
The 2022 Medicare first looks are available online for free for contracted TAIA agents. Contact the Agent Contracting department at agents@taia.us if you do not yet have online access.
Each new benefits overview will help you be prepared to sell 2022 plans and products. As the Medicare Annual Enrollment Period (AEP) for this year approaches, it is important that you be well-acquainted with the carrier updates for the upcoming year.
Join the free virtual Medicare Summits to get more details from each carrier, and help make sure you are prepared for Medicare AEP (October 15 – December 7).
Register now for NY, or now for CA. You can find more information on each summit on their sites below.