Without client retention strategies in place, you are spinning your wheels and getting nowhere fast. Most agents are burning themselves out replacing lost clients with new ones, rather than investing in successful strategies to increase their retention rates. But you are not most agents. You know it's far more cost-effective to keep the clients you have than it is to acquire new ones. Instead of wasting your time and money doing what everyone else is, use these unexpected ways to unlock amazing client retention for your business and watch it grow.
The Best Client Retention Strategies We've Discovered
1. Find areas of connection.
Insurance is a human business and humans need connection – even small ones. This is especially crucial when first connecting with a client, but it should remain a priority every time you interact with them. You could create a connection by asking about their work, their kids or grandkids, their plans, what hobbies they have, or what movies they've seen recently. While you should find an opportunity to relate (Ex: 'Yes, wasn't that movie fantastic?'), remember that your listening skills should be expert-level here. Listen more than you talk so you can connect with them again in a meaningful way when they least expect it. Speaking of which…
2. Send them thoughtful gifts.
Had you ever considered thoughtfulness as one of your client retention strategies? When you were talking last, did you recall your client say they love baking on the weekends? After they sign that policy, send them a $10 baking cookbook with a note from you. If you are worried about your budget, there are plenty of thoughtful gestures that don't cost money. For example, did they mention they were looking into spending the summer traveling in an RV? Do 5-10 minutes of research on the internet and follow up with a link to an RV buying guide. This kind of thoughtfulness is an investment in your client loyalty. Your clients think, "Wow, my agent is genuinely interested in me even when it doesn't directly benefit them."
Take a look at these survey results that list the biggest reasons clients or customers leave a business. This is why genuine client retention strategies are so important.
3. Sponsor a local sports team or city event.
If you keep doing what you've always done, you're going to get the same results you've always gotten. What if you dared to try something as bold as investing in the community of your clients? Having a stake in local events strengthens your relationships with clients because it makes you part of the community fabric. (Not to mention it exponentially increases awareness of your business). If you're not financially able to sponsor a team right now, there are other ways to support your community. What if you *donated products or services to a raffle or provided space to host a fundraiser?
*If this is one of the client retention strategies you want to try, be sure you choose things that represent your key demographic. For example, if you primarily sell Medicare, ask the local community center if you could sponsor a weekly senior community event. Here's how you can get started.
4. Send a handwritten note.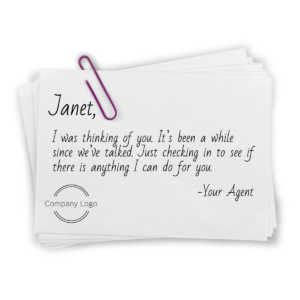 Most agents today try to automate everything they can. Automated reminders, automated emails… you'd be surprised how much you can automate. All those things are helpful for using your time effectively and efficiently. But not all client retention strategies can be automated. Imagine how much a hand-written note would stand out from the noise. You might be the first agent they've ever had to take the time to do this. Or at least first in a long while. That's gold. Make it a goal to send every client at least one personalized handwritten card or note per year. Try to do it when it's least expected (for example, not during the holidays, but perhaps during the summer).
5. Ask for feedback.
Don't be that agent that thinks they have all the answers. Asking for feedback is the best way to improve your services. Send your clients an email thanking them for their business and asking them how you can improve your services. If you can hone what your clients really want out of their relationship with you, you can deliver the kind of services that will keep them for life. There are two ways you can do this. One is to send a personal email whenever a client has decided to go with another agent. Or, you can send a personal email to the clients you currently have to collect feedback. Either way, this might be one of the easiest client retention strategies to put into action.
6. Reach out during important moments.
You already know the success of your business is built on relationships with your clients. What if you could drastically improve that relationship with something as ordinary as texting? You still need to be involved in the community and send your handwritten notes, but *texting them is an unexpected way to connect on a personal level during important moments. Maybe these texts turn into new business, maybe not, but they nurture long-lasting and trusting relationships.
*If this is one of the client retention strategies you want to implement, here is a great resource full of conversation starters for your clients.
Using Client Retention to Scale Your Business
You've made it to the end of this article which means you've found some value from these ideas for client retention strategies. It is also possible you're overwhelmed because you think you don't have the time or budget to implement them. Listen, if you don't try something, it's just going to get worse. Eventually, other agents will figure out how to perfect their client retention strategies and you'll be hustling to keep the business you have. Don't hustle anymore! Pick one of these strategies to start and then slowly scale your business from there.