Most consumers agree that online reviews are influential in their decision-making process, no matter the industry. And yet, the majority of agents aren't actively seeking online reviews. According to a recent study, up to 90% of agents have a mere 0-3 reviews. Without the social proof of more online reviews, you're climbing an uphill battle to get your clients to trust you.
So, you are standing at a crossroads right now. You can either keep wasting your time and energy to find a few quality clients, or you can boost your online visibility and let the clients come to you. The first choice will get you the same results you've always gotten – leads that are difficult to nurture with an average yield from your efforts. The second choice will set you up to continually increase your book of business with very little ongoing effort.
Firstly, why in the world does this matter? 
Reviews help improve your SEO (search engine optimization) ranking and give you social proof. Translation: It's easier for people to find you online, and it's easier for them to trust you. Phrases like "search engine optimization" might scare you, but you can't ignore it any longer if you want to be effective. (Don't worry, we'll show you how to get online reviews that are authentic and can boost your organic leads.)
The good news is that recent trends show that clients are becoming far more open to leaving good reviews after an interaction with an insurance agent. And more than that, most of the reviews left are positive ones. It seems most people expect a negative experience with their agent, so when it's positive, they flood to online channels to rave about their experience. (Should we be happy or disappointed about that reality?? Um…let's move on…)
The bottom line is the more reviews you can get on your Google business listing (and other online review platforms such as Yelp, Facebook, Angie's List, BBB, and more), the higher you will rank in Google. This is what we call search engine optimization (SEO). (Is that word a little less scary now?)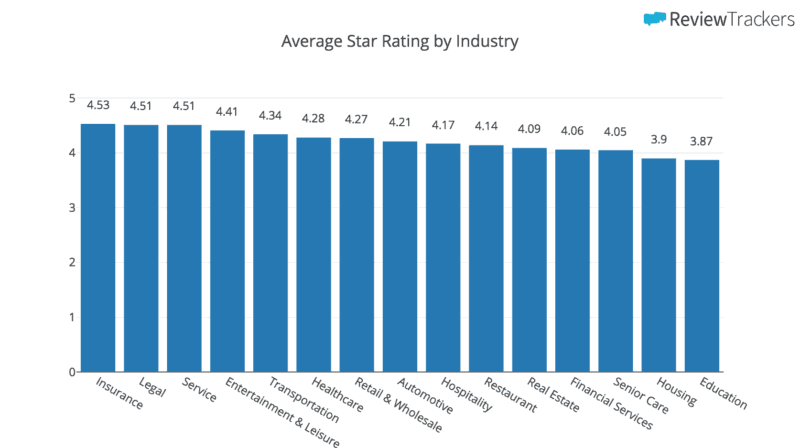 Alright, alright…tell me how to get it done.
STEP 1: Claim Your Business on GMB
If you haven't yet, claim your business on Google My Business.
Please Note: If you are working from a home office, you cannot use this service. You can only list your business on GMB if you have a physical location like a rented office space. If you are contracted with us and you use our website service but cannot use GMB, talk to us about adding a review section to your website. 
Once you've claimed your business, here's how to get online reviews: email your current list of clients and just ask them! BUT, you have to make it easy for them. So, before you excitedly run off to send an email blast, get the direct link to your business listings review page. Keep reading along to find out how.
STEP 2:  Get the Link to Your Review Page
2a. Go to Google and search your business name.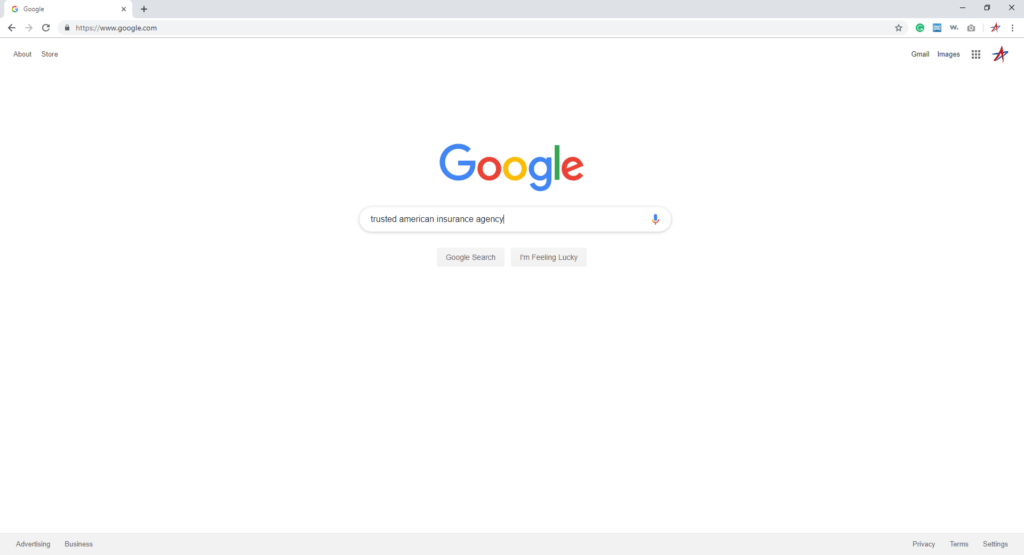 2b. On your business listing, click the "Write a Review" button.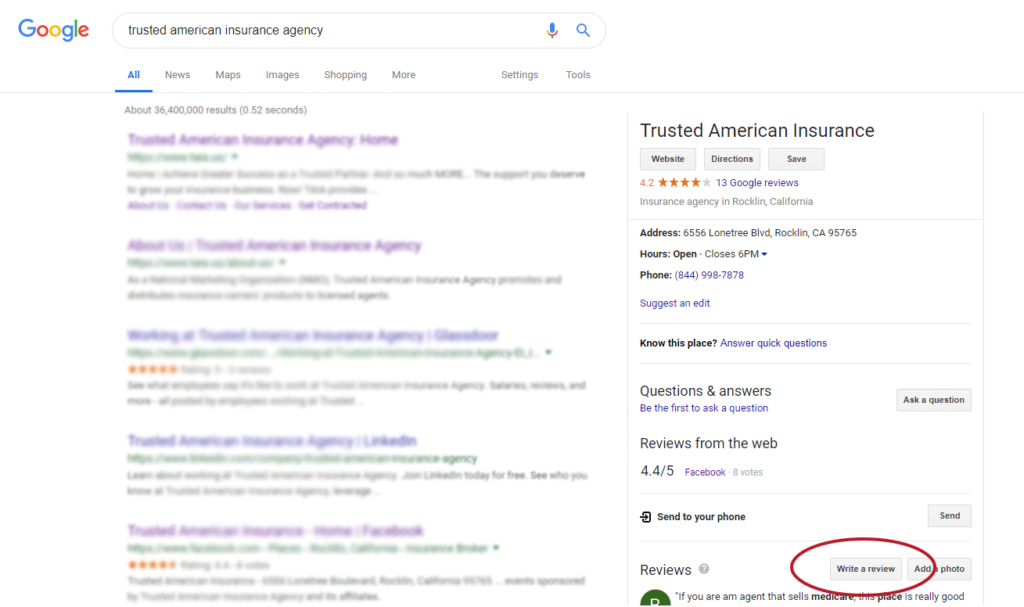 2c. Copy the URL.
It'll be really long so make sure you have all of it. Click in the URL bar so the entire thing is highlighted blue. Then click CTRL C on your keyboard (⌘ C if you have a Mac).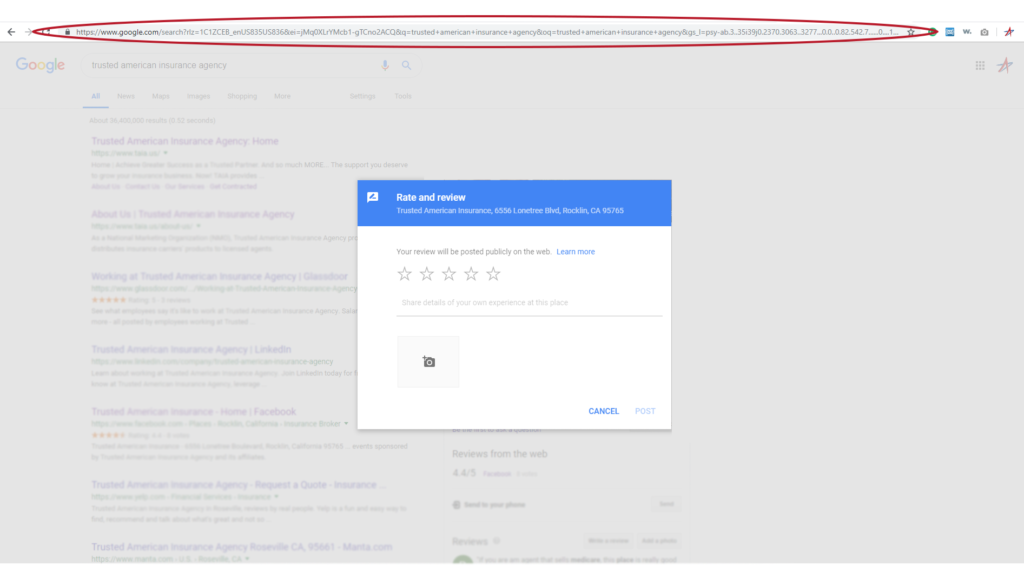 2d. Use a URL shortener to make this link pretty. (Yes, we said pretty).
We like https://bit.do/. Just paste your review link by typing CTRL V (⌘ V if you have a Mac). Then click the button that says "Shorten"
BONUS: A nice feature this URL shortener has is the ability to customize your link. This makes it looks a little more trustworthy to consumers. Go ahead and type in something relevant to your link. We used "TAIAReviews" for ours.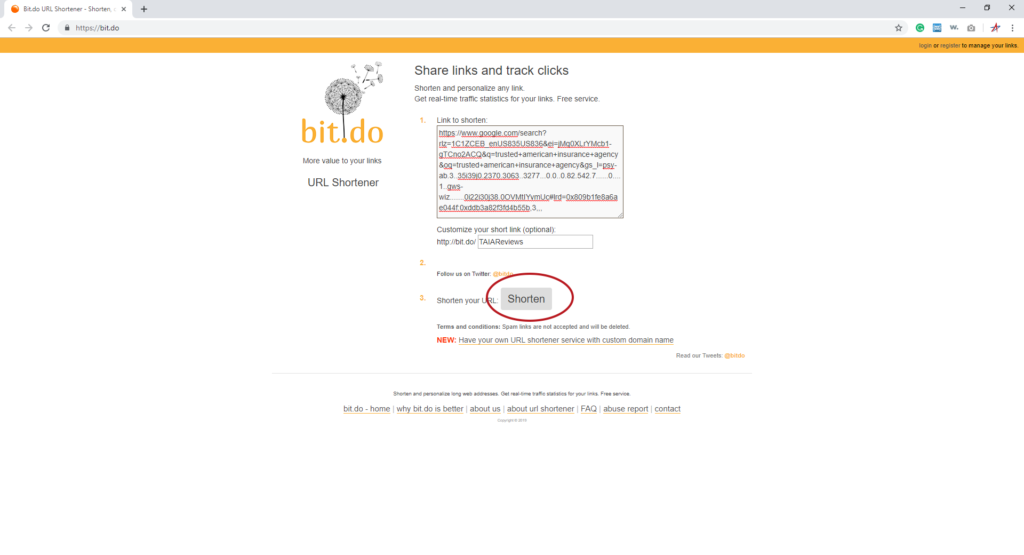 2e. Test your link.
Click inside the "Short URL" bar so the entire thing is highlighted blue. Then click CTRL C on your keyboard (⌘ C if you have a Mac).
Next, open a new browser window and paste the URL by clicking CTRL V on your keyboard (⌘ C if you have a Mac). If it takes you back to the review prompt, it works!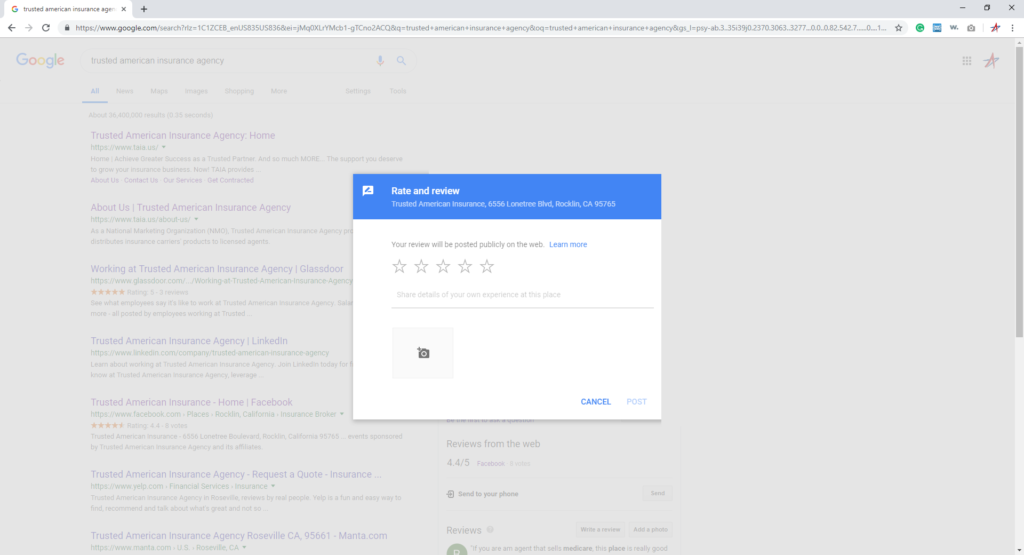 2f. Save your links!!
You will want to save this link where you won't lose it. Save it in a word doc, an email draft, or anywhere you know you won't lose it.
We also recommend saving the other link "Traffic Stats" if you want to see how many people are clicking your link. Whenever you visit that link, you'll get updated stats. (Pretty great, right?)
STEP 3: Send Your Email
Alight, you've done all the hard work. Now it's time to send an email, including your link, to your client list. You don't want to come across as an annoyance, so, keep your email short and to the point. Here is an example:
Hello,

It has been a pleasure helping you with your insurance needs, and I am grateful you for your business.

Would you mind taking a couple of minutes to leave a review on our Google Business page? We value your feedback and know that it will help future prospects make an informed decision.

You can leave your review by clicking this link:  [insert your link here]

Thanks again for your business!

Sincerely,

Your Name
Once you settle on an email script that works for you, you can send it to all future customers. And that's how to get online reviews.
Congrats! You did it!
Would you like a list of creative ideas for getting more clients to leave reviews? Read our blog: 5 Proven Ways for Agents to Get Authentic Online Reviews (what if I said it also comes with a free download?)