All enrollees have the right to file an appeal with C2C Innovative Solutions if they believe they have maintained adequate drug coverage.
The easiest and fastest way to submit your Late Enrollment Penalty appeal request is to upload your paperwork to the QIC appeals portal.
Note you have 60 days from the date you received the LEP notice to appeal the decision
Here's What You'll Need
LEP Notice that was sent by the Part D Plan
Notice of Creditable Coverage
Instructions:
You will need to select Part D Plans to be redirected to the correct portal.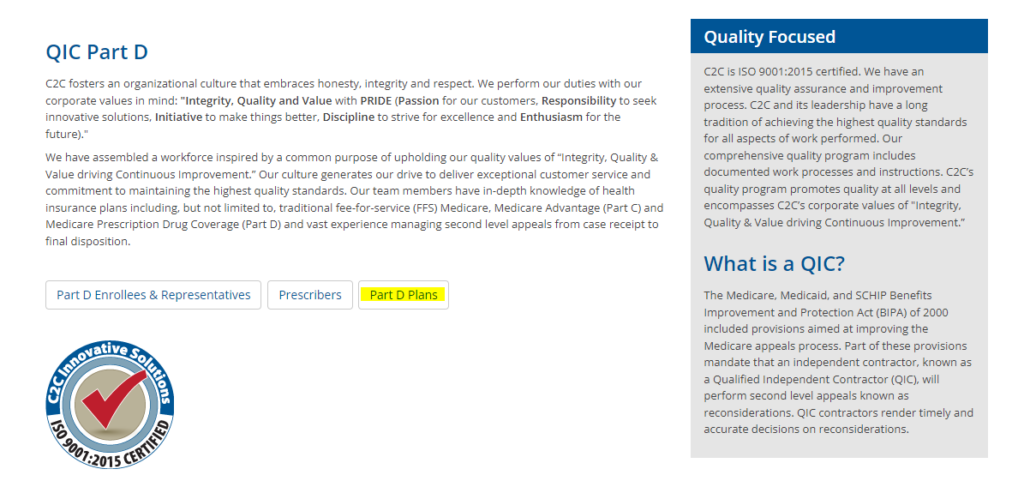 Then you are going to select the option that says QIC Appeals Portal.
Next, input your email address to verify if you already have an account set up. If not, it will prompt you to set up an account with your email address.

If you need to set up your account, fill out the required sections and under the organization name you are going to input "Beneficiary."
Select these options below once you are logged into your account.
Select Part D when it asks to "Select Appeal Jurisdiction."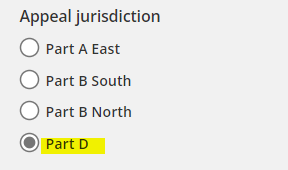 The type of Part D Submission will be Part D Enrollees & Representative – Late Enrollment Penalty (LEP) Appeal Request.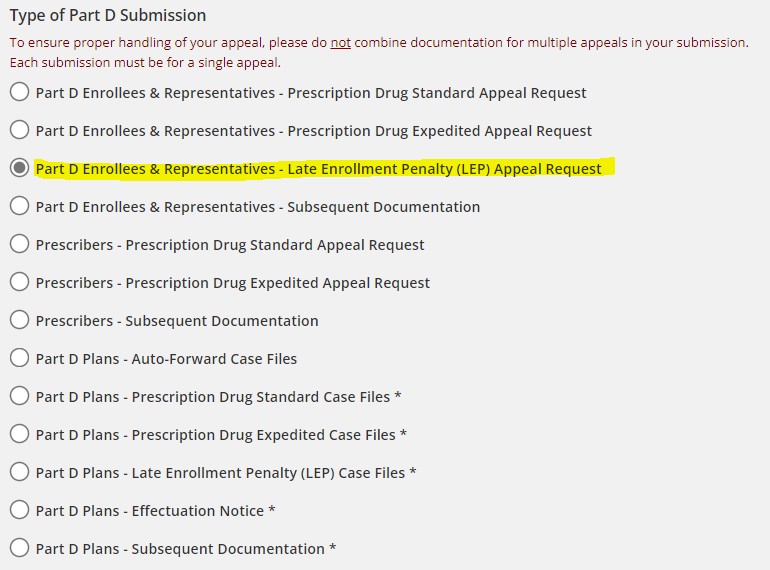 Leave this section blank if you do not have a case number assigned to you yet.

Your appeal request and any supporting documentation must be uploaded as a single PDF.

Lastly, you will need to create a six-character nickname for your submission. You will refer to this nickname when inquiring about your appeal.
You will receive an email confirmation once your appeal is submitted successfully. Expect a response from C2C Innovative Solutions within 90 days after submitting your appeal. Of course, you are still expected to pay the LEP during the time your appeal is being processed. However, once your appeal is approved then your Part D plan will reimburse you for the LEP payments you made.
In addition, you will be able to check the status of your appeal on the Appeal Status Lookup Tool.
C2C Innovative Solutions will send you an acknowledgement letter after receiving your submission that will contain your Appeal Number.
C2C Innovative Solutions
Part D LEP Reconsiderations
PO Box 44165
Jacksonville, FL 32231-4165
Toll-free fax: (833) 946-1912
Customer Service: 833-919-0198